How Often Should You Replace High-Visibility Clothing?
How Often Should You Replace High-Visibility Clothing?
High-visibility clothing, or high-visibility safety apparel (HVSA), plays a critical part in helping keep you safe in the workplace. Whether it's required or by your choice, wearing ANSI/ISEA compliant workwear helps ensure that you're seen at all times, day or night. What many people don't think about is that as the workwear is worn, soiled, washed, and exposed to the elements, it can lose some of its fluorescent color, and therefore its high-visibility nature. This can put you or those around you at risk for accidents so knowing when to replace an unfit garment is essential.
Getting Started
If you've been in the industry for a while, you might have accumulated a lot of apparel by now. The easiest way to see what needs to be replaced is to gather it all together in one area. This way you'll be able to see how many of each item you have and, if you purchased garments at different times, you may be able to compare the brightness of an older garment with a newer one(s).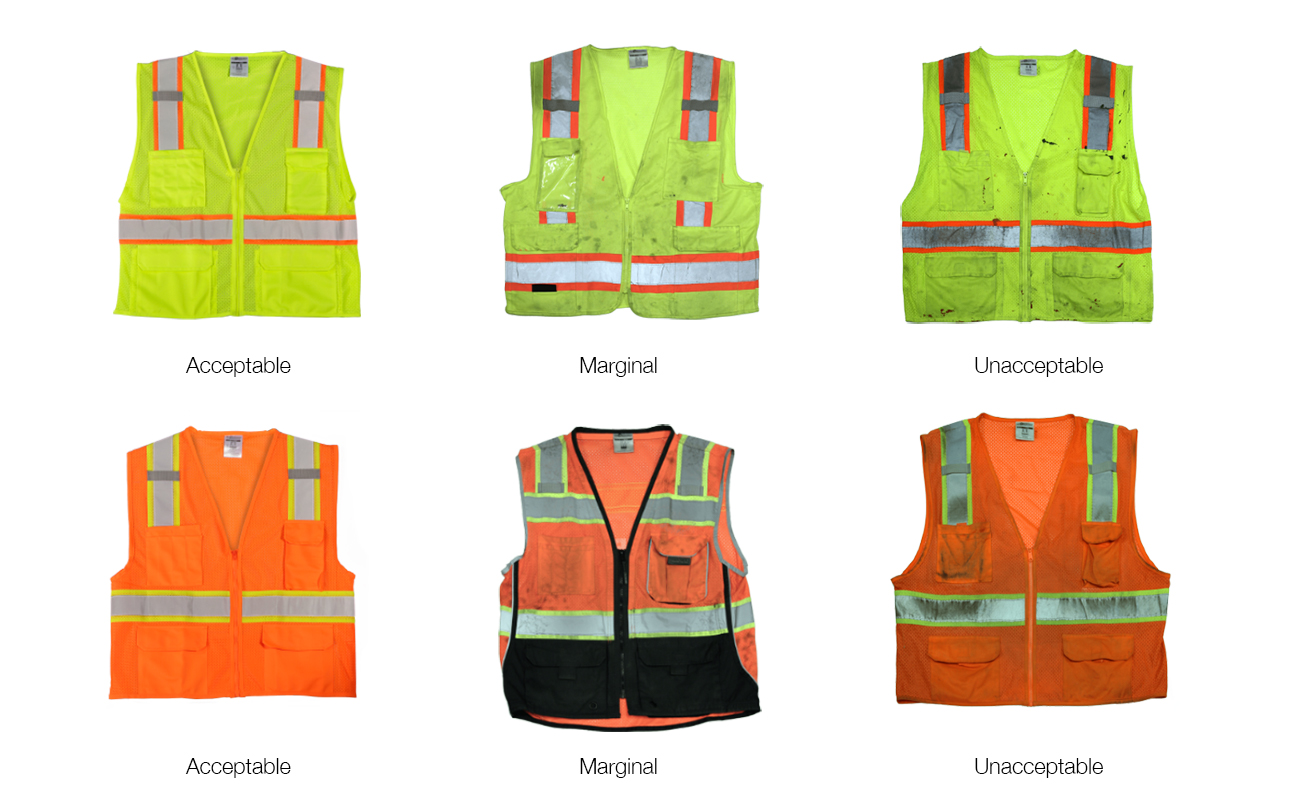 At the highest level, you can sort your workwear into three categories: acceptable, marginal, or unacceptable.
Acceptable: Acceptable product providing maximum visibility and safety for the user: Vivid color contrast and high reflectivity
Marginal: Good reflectivity, although the product has some soiling and light fading.
Unacceptable: Marginal reflectivity, with significant soiling or fading.
Remember, by wearing these vibrant colors—fluorescent lime, red, and orange—that contrast with your work environment, you're helping ensure that people are more likely to see you as you're working. If you notice that the color or reflective material has faded, it's not worth an accident or worse to keep wearing it.
Signs Your Hi Vis Clothing Should Be Replaced
Still unsure if your high viz workwear needs to be replaced? Here are some signs you should look for:
Any part of the garment's fluorescent fabric has faded or become dull
If there are stains or largely soiled areas that cannot be cleaned
Any tears, rips, holes, or even worn spots anywhere on the garment
The reflective bands or strips are damaged, worn, or fading
No longer visible for 1,000 feet during the day or night
It's no longer comfortable to wear your garment for extended periods of time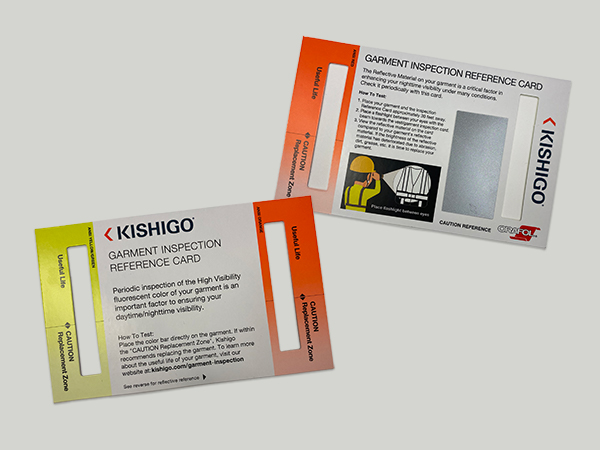 Using a Garment Inspection Card
Not seeing any holes, but still worried your workwear needs replacing? Kishigo offers a Garment Inspection Reference Card that you can use to help determine if the fluorescent color of reflective material has faded. It's free and can be ordered here.
Here's how it works:
Testing the Fluorescent Color
Place the color bar directly on the garment.
Compare the color of your garment with how it should appear on the card.
If within the "CAUTION Replacement Zone," Kishigo recommends replacing the garment.
Testing the Reflective Material
Place your garment and the Garment Inspection Reference Card approximately 30 feet away
Place a flashlight between your eyes with the beam towards the vest/garment inspection card.
View the reflective material on the card compared to your garment's reflective material. If the brightness of the reflective material has deteriorated due to abrasion, dirt, grease, etc. it is time to replace your garment.
Storing High Visibility Clothing
So, you've researched and purchased some high-visibility clothing that you'd like to keep for as long as possible. Storing it properly each day will go a long way in helping you accomplish just that. Here are a couple quick and easy tips to help keep your safety gear in good shape: 
Store It Out of Direct Sunlight – You're done with your day, and it seems so easy to throw it on the seat next to you or on your dash. But leaving it out in the sun will actually make the colors fade more quickly, so try to find a spot that's nice and dark.  
Give Your Gear a Quick Wipe Down After Work – We know it's tempting to just take it off when your day's done and forget about it, especially since you might be working in the same elements the next day. But take just a few minutes to wipe your hi vis gear down with a damp cloth if possible. You'll keep it looking better and can go longer between full washes.   
Don't Crush It or Shove It into a Small Space – It puts extra stress on the clothing fibers and can make it break down faster. This is especially true for the reflective tape.
Can I Put My High Visibility Clothing in the Washer?
In short, it depends on the garment. To find out whether you can machine wash your hi vis gear, take a look at the care instructions on the tag of your apparel. You'll find out if it can be machine washed, put in the dryer, dry cleaned, or even bleached. 
In Summary
We all know that nothing lasts forever and the same goes for high-visibility apparel. Even if it's been made with the highest-quality materials, you still need to inspect your garments regularly to make sure that it's in good condition. Investing in well-made apparel, storing it, and cleaning it per the manufacturer's guidelines is the best way to ensure that it lasts you a long time. And remember, if it's showing signs of wear, replace it immediately. Don't risk your safety!