INTRODUCING 1971 BY KISHIGO
Made in America Since 1971
52 YEARS OF QUALITY, COMMITMENT AND ATTENTION TO DETAIL IN EVERY STITCH AND SEAM.
We have been doing this since 1971. We have almost 52 years of experience and feedback from the hardworking men and women around the country. That experience has allowed us to create best-in-class workwear with unmatched design, durability and functionality for the workers who wear our high visibility apparel on the job site every day.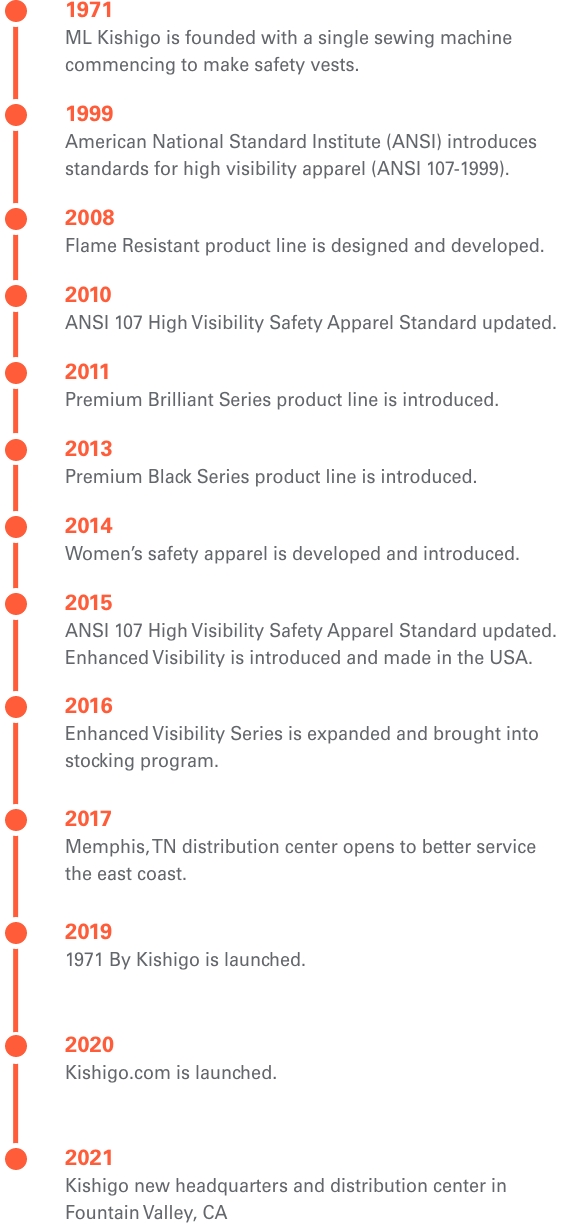 WHAT YOU WEAR SAYS SOMETHING ABOUT YOU AND YOUR COMPANY.
Kishigo is committed to keeping your workforce safe and visible. We also understand that your workforce needs to look professional and that their appearance makes a statement about your company. You just can't afford a workforce with tattered seams, crooked logos, or torn-out pockets. 1971 is the ultimate expression of what we stand for: safety, quality, innovative design. Check out the video and reach out to us today if you are interested in seeing how 1971 by Kishigo can help you share what you stand for.
DELTA
Kishigo is proud to deliver custom designed, made-in-the-USA vests to the Delta Airlines Honor Guard.
LADWP
The Los Angeles Department of Water and Power chose Kishigo to quickly deliver the highest quality FR Vests available.
LA METRO
LA Metro turns to Kishigo for the highest quality, customized FR and ANSI Class 3 vests for its Service Patrol.
1971 PRODUCTS BY KISHIGO
Our 1971 products are the culmination of 50 years of continuous focus on innovation, quality and comfort. 1971 branded garments feature the best designs, components, and styles available. This level of quality and attention to detail is only possible by controlling every step of the design and manufacturing process. That's why 1971 branded garments are designed and produced in the Kishigo Design and Production Center located in our headquarters in Fountain Valley, CA. That means that every 1971 product is proudly made in the United States.
View our products and reach out today to see how we can put 1971 to work for you.
---
Proudly Partnering with
---
"As an American born company, Kishigo embraces uniqueness because some of the best ideas come from our customers wanting something different. Our US-Made 1971 brand allows for creativity combined with the highest quality in the industry."
ELKE HIRSCHMAN
GENERAL MANAGER, KISHIGO
MADE TO ORDER
Unique challenges require unique solutions.
Many of our clients have specialized needs that standard garments can't meet. Or they need faster turn-around times than typical off-shore production can support. These are just some of the problems that our design center can help you solve. Fill out our contact form and we can get started today!
CONTACT US TODAY AND LET'S EXPLORE WHAT 1971 AND KISHIGO CAN DO FOR YOU
KISHIGO 1971